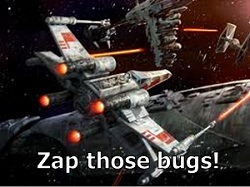 Bugs are inevitable. Even after you thought you have finished coding your work, another bug creeps in, making you want to wish the bugs were real tangible objects that you could squish with your bare hands. Being a developer, you should be armed with the right weapons to battle bugs for they come almost all the time. In fact, they are building yet another Death Star. If you don't get vigilant, they will soon take your software down.
Next week holds a lot of exciting events for me at Canberra. Aside from delivering a talk on Behavior-Driven Development for the Canberra Java Users Group, I will also be conducting the Agile Java Development Practices workshop.
If you want to learn how to write effective tests and better your code, produce high quality applications, know the latest on agile development tools and practices, and ultimately become a Java master, then this workshop is for you.
The Agile Java Development Practices workshop is an all-in-one venue for students to learn the latest agile development practices and tools and how to put them into action. The course covers the scope of agile development activities including agile requirements gathering, agile architecture, test driven development, refactoring and clean coding, continuous integration and delivery, behavior-driven development and collaboration. Advanced ATDD and Automated Acceptance Testing practices for Java developers are also covered in this course.
And to top off the learning experience, students will be able to build a small application using ATDD and TDD practices with the aid of tools such as JBehave, Spock and Thucydides.
In a matter of 4 days, students of this course will definitely level up their development skills. So if you want to make that next step on becoming a Java master, be sure to attend the workshop. You still have a day or two left to enroll!
Acceptance Test Driven Development (ATDD) is a method wherein business stakeholders, analysts, testers and developers collectively specify and agree on what needs to be completed in the project. Requirement specifications are set and verified even before actual development starts. This ensures that only those value-adding features are delivered to the business.
Instead of validating after the feature has been developed, tests in ATDD are embedded throughout the development process. This gives immediate feedback should there be any discrepancies between documentation and actual implementation. With this in practice, the product is better tested and effort is maximized.
In the upcoming Devoxx conference, I will share how tools such as JBehave and Thucydides can help you form well-written acceptance tests. You will also get to know the benefits of having well-written tests to your documentation and reports.
What is important to highlight in ATDD is that collaboration is key to successful development. As I would put it, ATDD is a simple process change that can have far-reaching implications for your development projects.
The long-awaited Java Power Tools book will be on the shelves in April 2008!
All true craftsmen need the best tools to do their finest work, and programmers are no different. Java Power Tools delivers 30 open source tools designed to improve the development practices of Java developers in any size team or organization. Each chapter includes a series of short articles about one particular tool -- whether it's for build systems, version control, or other aspects of the development process -- giving you the equivalent of 30 short reference books in one package.
Reserve your copy now!
An interview with John, author of Java Power Tools and principal consultant of Wakaleo Consulting, has been published on DZone.